「月に寄りそう乙女の作法(
Tsuki ni Yorisou Otome no Sahou
)
」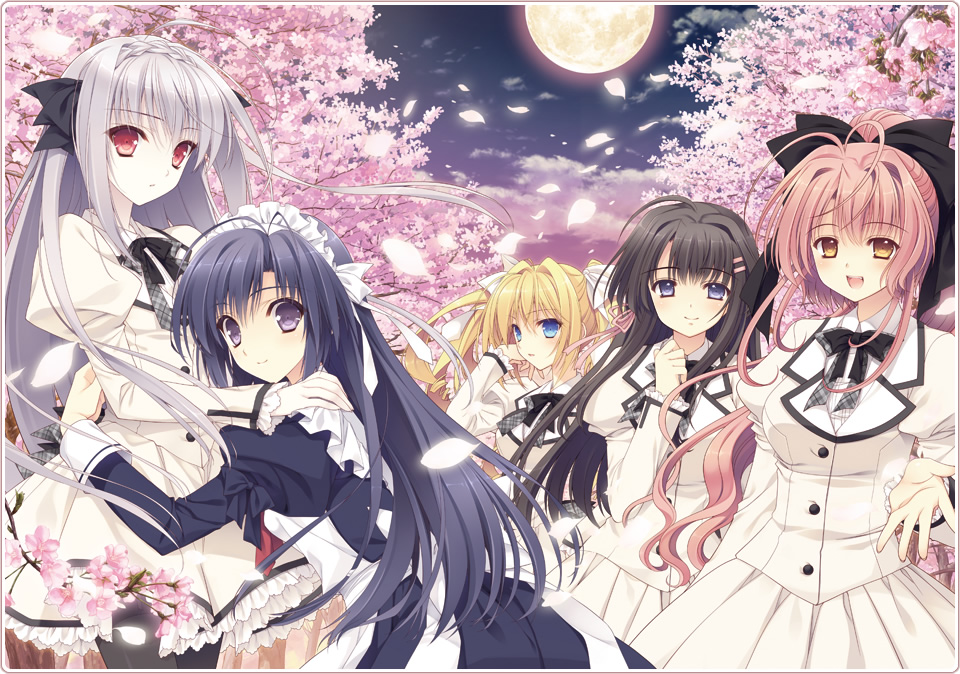 Coming from a prestigious family, that didn't want him, in the financial world, Yuusei had been home-schooled strictly and sheltered all his life. Even though he excelled at everything, it was his dream to live a life of a commoner. One day his chance came and he changed his identity to Asahi and entered Fairy Girl's School, which specializes in female fashion for the rich. As part of his plan, he became the maid of his classmate Luna and worked at her home Sakura-yashiki. Also living there were a proud exchange student from Switzerland, Ursule, a Yamato Nadeshiko, Mizuho, and his childhood Minato, who had feelings for him and was also the only one who knew his true identity. With her help, will he be able to manage his double life in the school and his new home?
[Quoted from Micchi's sentence]
Attraction of this work is beauty.
Grace of the characters, splendid structures, music, and so forth...
Especially, the protagonist is pure. Sh

e always acts with humanity.

We cannot easily imitate his careful consideration. U

ndoubtedly t

here are few people who are splendid like her.
Name 「小倉 朝日(Kokura Asahi)」 Aliases 「大蔵 遊星(Ookura Yuusei)」、「Nadeshiko」
As a matter of fact, she is a man! But his heart is delicate like a woman.
So, he has two face of a gentleman and a gentlewoman.
Beauty, modesty and a gentle disposition—a girl with these qualities is the ideal Japanese woman.
He is just Japanese woman. (I verified that this sentence is correct, ...something is grammatically strange ?)
With regret, he doesn't have

dresses and their ornaments

talent,
whereas he l
ove it. His dream that to become a dress designer was broken down once.
Even
supposing that he is
devoid of talent, he has never give up.
For us, however strived hard, we will not necessarily be able to success. How sophisticated your skill, you can be no match for a talented person. But persons have no leisure to feel discouragement, we have a limit at time in the life. So that we won't have any regrets,

we

should not spare time of experiencing desperate hardships

.
Society judge individual person from a result, I hope that all of hard worker will be repaid. They should be given rights

such as suck the sweet, aren't they?
"A process is more important than a result."
This is my favorite

sentence

.
<
Story >
Key people of this work are greatly related to「

dresses and their ornaments

」.
Example of Terminology, 「a (paper) pattern, sheeting, textile」
To play this work, want to design even me who am not too interested in outfitting. It was as if I found the new world.
Because clothes are things we to wear every day, interesting in a process before clothes being pieced, aren't you?
< structure >
↑ Both of two picture are inside of Sakura-yashiki.
"Yashiki" means a residence. I'm Japanese, but I have never seen such a gorgeous
residence
before.
To tell the truth, there are not many big houses in Japan, in comparison with that of United States and Luxembourg.